Reports are parts of Analytics provided by Shopify which allow shop owners to get a general view of their statistics through times. Almost all of the reports can be shown in a selected date range, narrow or wide ups to your purposes. Particularly, you can choose a narrow date range to check the situation for a few days or choose a wide range to see the overview picture of the whole year for instance. Be noted that the new set range will be kept as default until you change it again and you can make adjustment anytime you want. To get more information, keep following this topic and you will know how to set a date range for a report on Shopify.
How to set a date range for a report
Step 1: Select a report
Sign in your account on Shopify website and go to Analytics which has a graph symbol beside its title. After that, you have to choose Reports to show all of your reports. You will see that they are categorized into groups to help users manage more easily, including Sales, Customers, Acquisition, etc..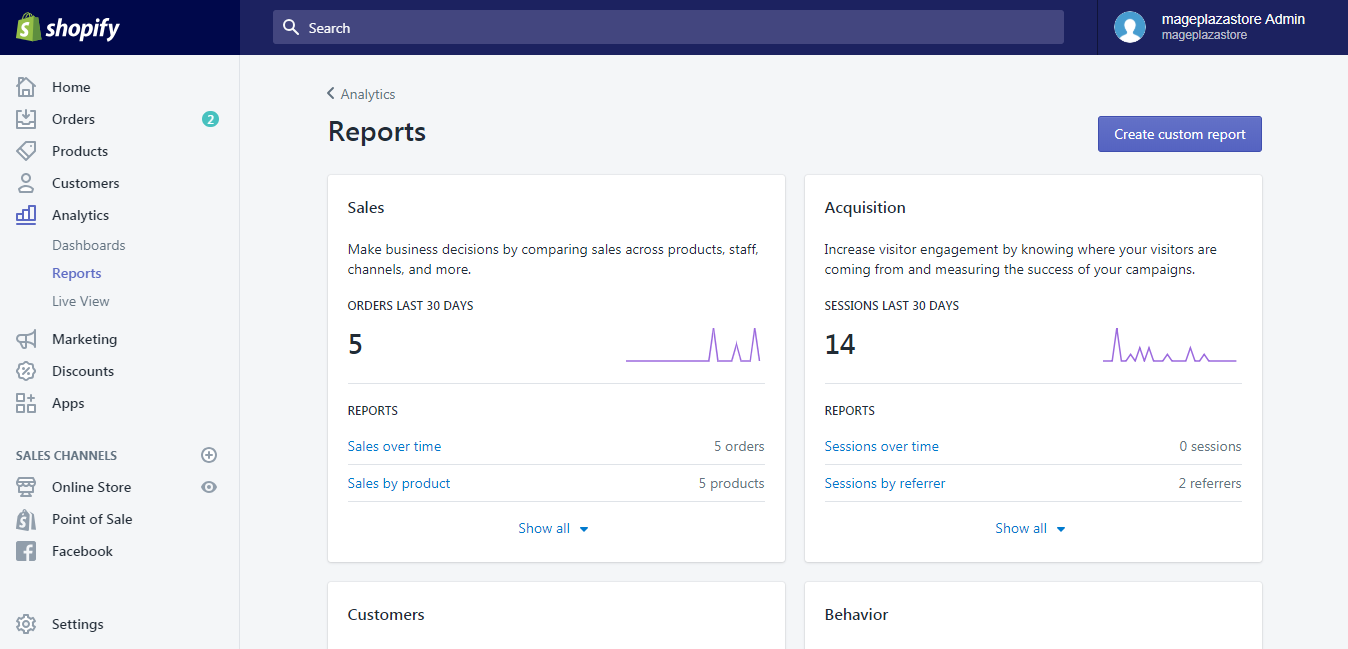 You can press on the Show all under each group to see detailed reports list and open the one that you want to change the date range by clicking on its name. For example, I want to adjust the time period for the Sales over time then I will select it.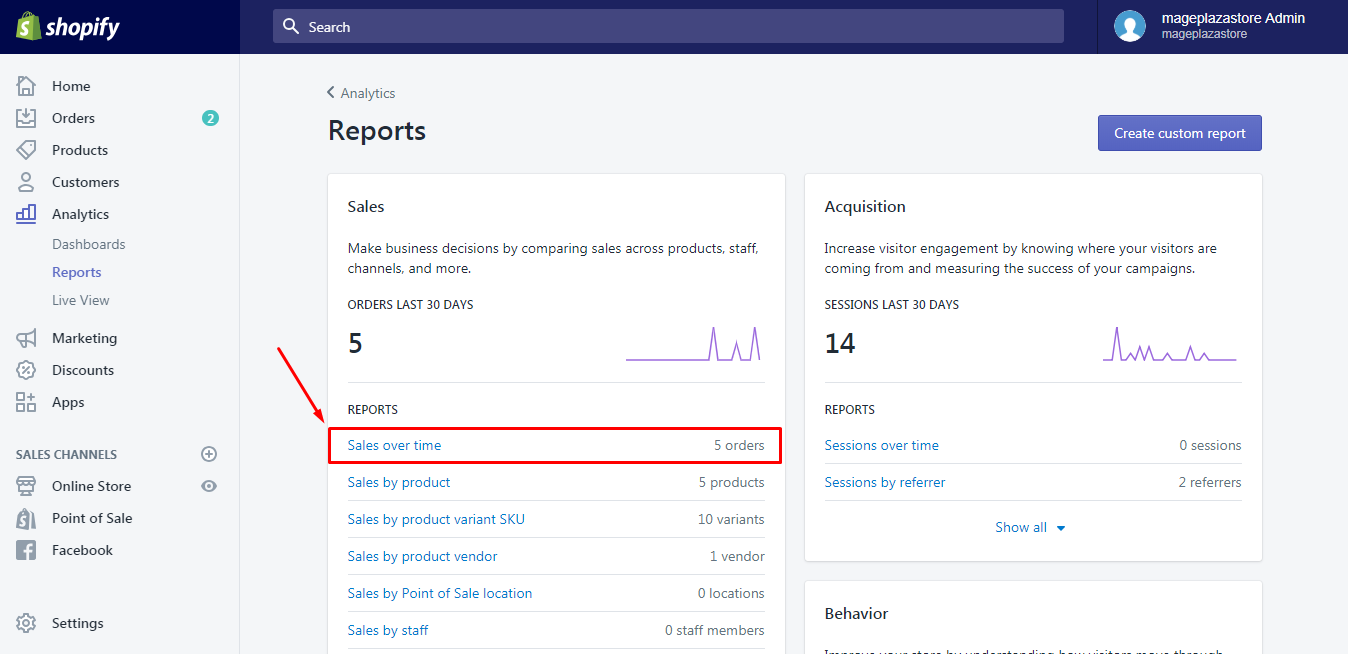 Step 2: Press on Date range
After opening the report, below its title, you will find that there are options to Print, Export or Save as and the Date range with a time setting. Click on the box next to Date range.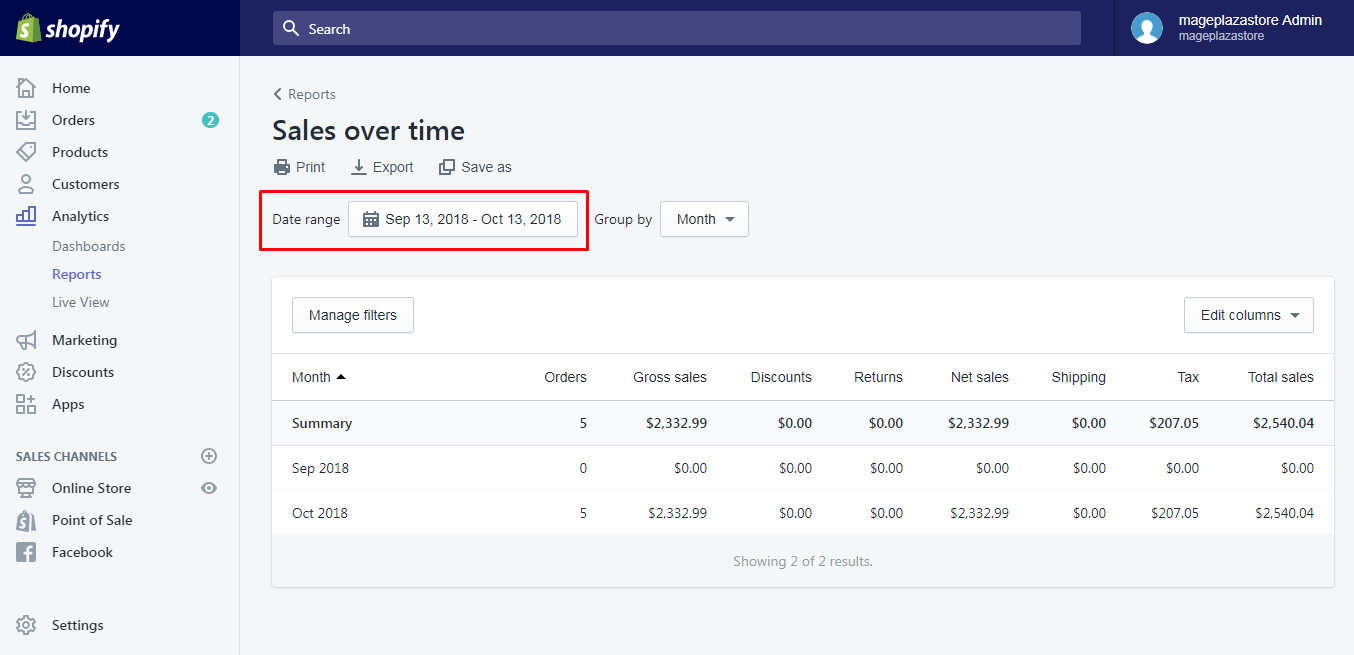 Step 3: Enter the range
By default, the date range is set to be a month to date, like in my case, it is from September 13th, 2018 to October 13th, 2018. You can edit it by typing the day you want into the Starting and Ending boxes. If you don't want to type it by hands, you can choose days in the calendars below it. Hence, you have to select two days, the first pick is for the starting day and the last one is for the ending.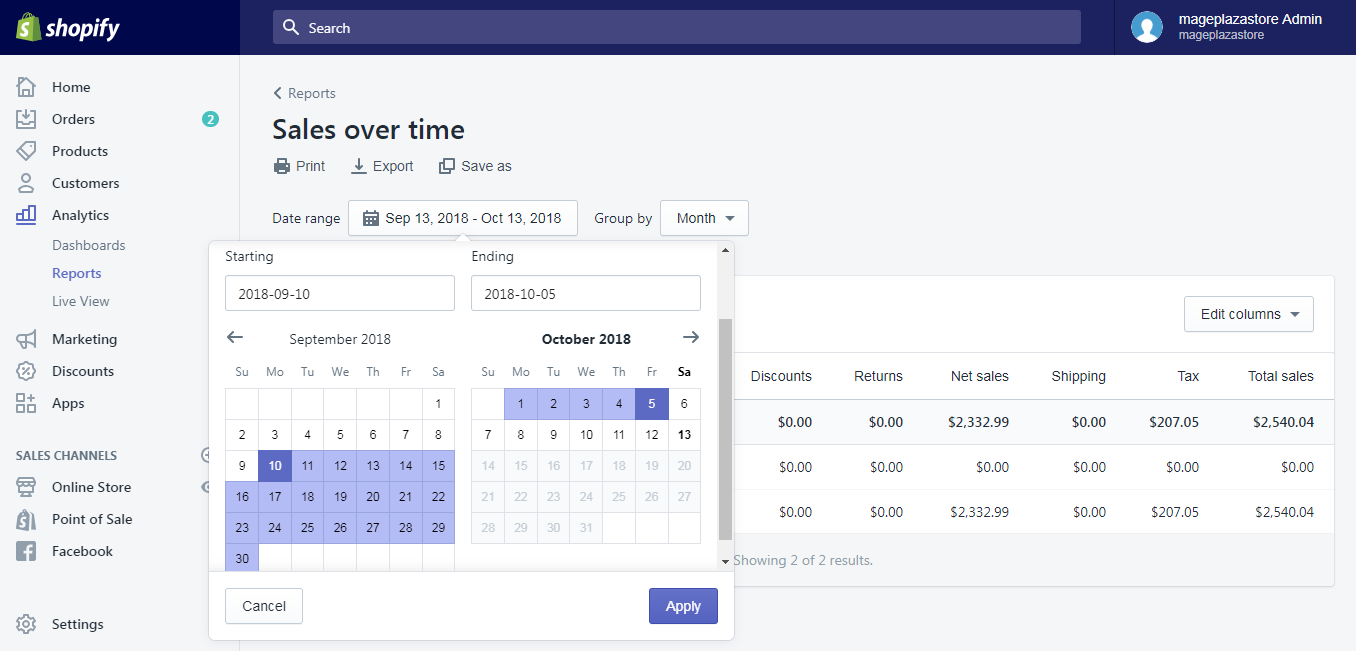 There is a note that the time period that you choose will be marked as the blue zone in the calendars. Moreover, after two clicks, if you continue choosing, the system will count that third time as the selection for the starting date and the fourth is for ending. Once you completed adding the range you want, the Apply button will light up that remember to press on it to save all the changes.
Conclusion
To sum up, this writing is all about how to set a date range for a report on Shopify. The process is quite simple that it just takes about five minutes to practice. I also attach a picture for each step that you can compare with yours to ensure that you are in the right direction. Thanks for reading this topic until the end and hope that you find this one helpful.